Drupal and Google Maps Geocoding API Application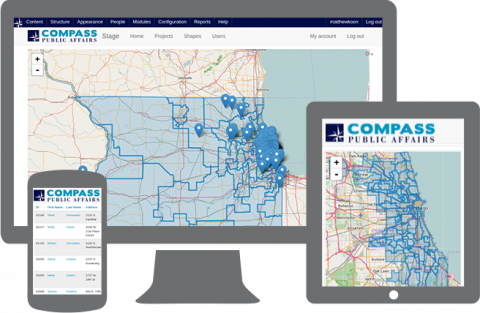 Compass Public Affairs, a prominent Chicago Public Relations firm, approached us to design an application for geocoding individual address data.
We evaluated several open source content management systems (CMS) upon their geographic information system (GIS) capabilities. We chose Drupal for its readily available community modules, APIs and the speed with which we could build interfaces and reports.
In a manner of weeks we delivered an application, which created meaningful value to Compass.
Compass is an expert at collecting signatures for community initiatives but was unable to share this data with their clients easily.  Zooma integrated the Google Maps Geocoding API to pinpoint address information by ward, city and Congressional districts (.kml files).  In addition to providing standard aggregation and search functionality, we made this data easy to export and display in a mult-tier map dashboard. 
This real-time data enables Compass to share valuable, actionable insight with their clients and allocate field resources more effectively.