UX Design for Experiential Marketing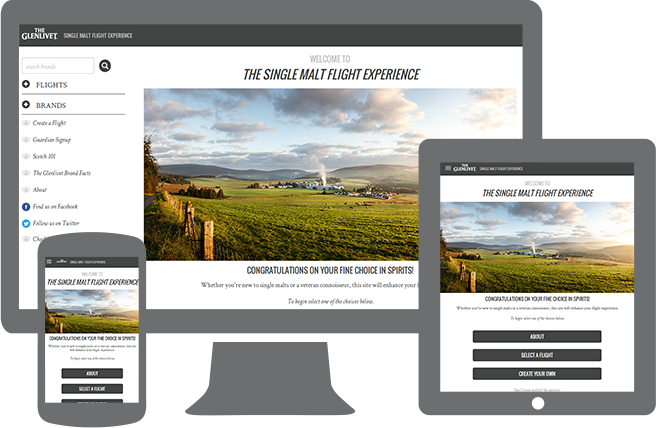 The Ask
Legacy Marketing, an experiential marketing agency in Chicago, approached us to develop a new GlenLivet micro-site to educate novice customers in the varieties of single malt whiskey. Our UX design process began with interviewing product owners, sales representatives, professional tasting experts and a small set of the target customer base.
Using this stakeholder information, we drafted some basic wireframes to illustrate the site's layout and navigational elements.
Draft Wireframes
We defined the application's information architecture and workflow elements. Nothing here was overly complex, but it made for a smooth hand-off to the developers.
Information Architecture
With technical deliverables knocked out, we made a final revision to the wire frames.
High Fidelity Wireframes
Before the design phase we presented our wires and technical documents to both the client and our development team. Often getting buy-in from development is overlooked on smaller projects and can lead to avoidable cost overruns.
Playing the role of creative director, we translated the objectives of the client's brand team to our designer, who then took charge of the "paint".
Final UX Design
The final result was a compelling micro-site, which functioned as personal tasting expert and evangelist for all things single malt and achieved the client's budget and brand objectives.